Be Biopharma signed strategic partnership with National Resilience for the production of engineered B cells, a new class of cellular therapies for rare diseases.
As part of the collaboration, the alliance will advance on Be Bio's initial rare disease programs.
Be Bio's B Cell Medicines (BeCM) platform uses the potential of the human B cell to develop a new class of autologous and allogeneic cell therapies that generate therapeutic proteins in vivo without the need for toxic preconditioning.
Companies will invest to drive innovation and consistency in the production of cell therapy, which is a vital factor for significant impact on patients.
Under the deal, Resilience will provide personnel for the production and delivery of a viral vector and a GMP cell therapy medicinal product for the initial programs in the Be Bio Rare Diseases Pipeline.
Resilience will handle production costs and is eligible to receive potential stage payments and royalties in the future, under a creative cost model and risk sharing.
In addition, the company will monitor the clinical production of GMP of a viral vector and a cell therapy drug for Be Be's initial rare disease programs for first human clinical trials.
To carry out this process, Resilience will use its bioprocessing solutions and network of cell therapy facilities, including those at Research Triangle Park, Philadelphia, Waltham and Marlborough.
Be Bio CEO Joan Smith-Farrell said: "Production is critical to the rapid movement of our BeCMs to the clinic, and we have built GMP-compliant production facilities at our Cambridge facility.
"This deal allows us to manage GMP production with an exclusive partner and in a cost-effective way.
"Resilience's extensive manufacturing capabilities, strong collaboration spirit and dedicated resources on our platform make them an ideal partner for our BeCM programs."
In April this year, Resilience and Opus Genetics signed a strategic manufacturing services agreement to develop the production of adeno-associated viral vector-based gene therapies for inherited retinal diseases.
The coverage for cell and gene therapy in pharmaceutical technology is maintained by Cytiva.
Editorial content is produced independently and follows the highest standards of journalistic integrity. Topic sponsors are not involved in the creation of editorial content.
Free white paper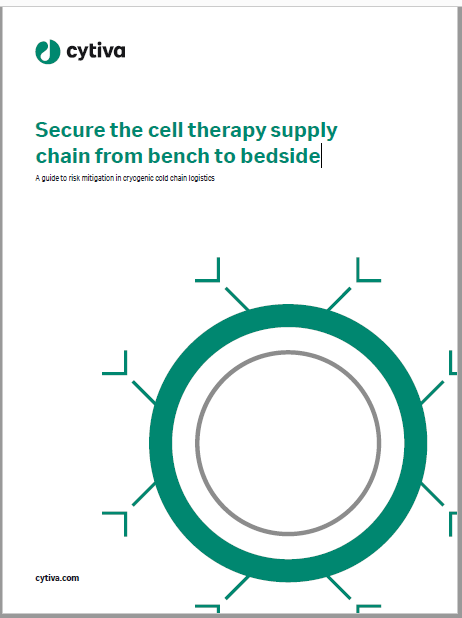 Provide the cell therapy supply chain from bench to bed
The development of cell therapies is changing healthcare, bringing new hope to thousands of patients around the world. However, the vein-to-vein workflow for these therapies is not without challenges, many of which will increase with scaling to treat more patients. Download this free guide from Cytiva to learn more about the challenges and risks of the cryogenic supply chain for cellular therapies and how best to mitigate supply chain disruptions.
by Cytiva Thematic
By clicking the Download Free White Paper button, you accept the terms and conditions and confirm that your data will be used as described in the Cytiva Thematic privacy policy.
By downloading this White Paper, you acknowledge that we may share your information with our White Paper partners / sponsors, who may contact you directly with information about their products and services.
Visit our privacy policy for more information about our services, how we may use, process and share your personal data, including information about your rights with respect to your personal data and how you can unsubscribe from future marketing communications. Our services are designed for corporate subscribers and you ensure that the email address sent is your corporate email address.


https://www.pharmaceutical-technology.com/news/be-bio-resilience-partnership/