The US Food and Drug Administration (FDA) has granted Orphan drug designation for Aro Biotherapeutics' ABX1100 for the treatment of Pompe disease.
Investigated Centyrin-small interfering ribonucleic acid (siRNA) conjugate, ABX1100 acts on the glycogen synthase 1 (Gys1) gene in muscle.
Gys1 is an enzyme that synthesizes glycogen in muscles. Inhibiting this enzyme has been found to reduce glycogen levels and is a new approach to treating Pompe disease.
In a mouse model of Pompe, ABX1100 was shown to significantly decrease Gys1 mRNA and GYS1 protein, causing a significant drop in skeletal muscle glycogen levels.
The company plans to enter ABX1100 into clinical trials in the middle of next year.
Aro Biotherapeutics Chief Medical Officer Mitty Doyle said, "We are delighted to have received this designation and are pleased with the FDA's recognition of ABX1100's potential to improve the lives of patients living with Pompe disease.
"We believe our new treatment approach has the potential to address the large unmet need that exists in Pompe disease, and we are excited to move ABX1100 into clinical trials next year."
Biotech firm Aro Biotherapeutics focuses on developing tissue-targeted genetic treatments.
Pompe disease is a rare genetic disorder that causes debilitating muscle weakness that progresses over time.
It is caused by a mutation in the enzyme acid alpha-glucosidase (GAA), which breaks down glycogen in muscle.
Because of the mutation, patients with Pompe disease have elevated glycogen levels, leading to disease progression.
Currently, patients receive enzyme replacement therapy (ERT) with recombinant GAA administered intravenously.
Cell and gene therapy coverage for pharmaceutical technologies is supported by Cytiva.
Editorial content is independently created and follows highest standards of journalistic integrity. Theme sponsors are not involved in the creation of editorial content.
Free white paper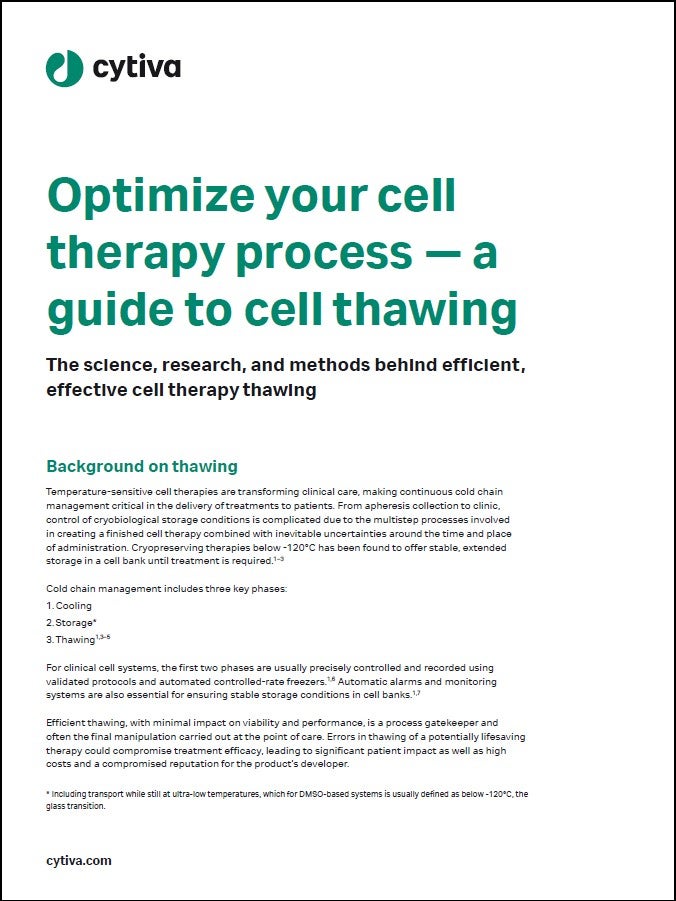 Optimize the cell therapy process: a guide to thawing cells
Commonly made at the point of care, errors in cell therapy thawing can compromise treatment efficacy, resulting in significant patient impact as well as high costs and a compromised reputation for the product developer. This guide examines how cell thawing has evolved historically into the new techniques used today, along with the physical and biological implications of key metrics and components such as warming rate and ice structure. Also included are reviews of key studies from the scientific literature and consideration of interactions between cooling and warming rates applicable to cell and gene therapies.
by Cytiva Thematic
By clicking the Download Free White Paper button, you accept the terms and conditions and confirm that your data will be used as described in Cytiva's Topical Privacy Policy. By downloading this white paper, you acknowledge that we may share your information with our white paper partners/sponsors who may contact you directly with information about their products and services.
Visit our privacy policy for more information about our services, how we may use, process and share your personal data, including information about your rights in relation to your personal data and how you can unsubscribe from future marketing communications. Our Services are intended for corporate subscribers and you warrant that the email address submitted is your corporate email address.


https://www.pharmaceutical-technology.com/news/fda-aro-biotherapeutics-pompe-disease/