In August, Pakistan set devastating records as an average more than triple the normal August monsoon rainfall. In the southern provinces of Sindh and Balochistan, the number was seven to eight times the average. As a result of the flood, about 1,500 people died and more than 30 million were displaced. disaster on an incredible scale.
Is this an event we expect a warmer climate to affect? As they often do, the World Weather Attribution team quickly analyzed this issue and publish the results in Thursday. Their peer-reviewed method for these rapid studies is to apply standardized analyzes to both historical weather data and climate model simulations. The goal is to determine whether a weather pattern is part of a long-term trend and then determine whether we expect such a trend to occur as a result of human-caused global warming.
Many factors
This event is more complex than something like a short-lived heat wave, given that it plays out in waves over weeks and depends on highly variable monsoon patterns. Monsoon rains result from the seasonal movement of moist air over land, combined with uplift that cools that air, squeezing the moisture out of it. This pattern is successful in Pakistan because it often originates in eastern India and curves northward before reaching Pakistan.
But this summer, eight monsoon depressions tracked right from east to west across India and into Pakistan — in part because of the record-breaking heat earlier this year that supported the low pressure that attracted the systems. It affected southern Pakistan more, but the north also saw rain in late August as the jet stream plunged south into the region.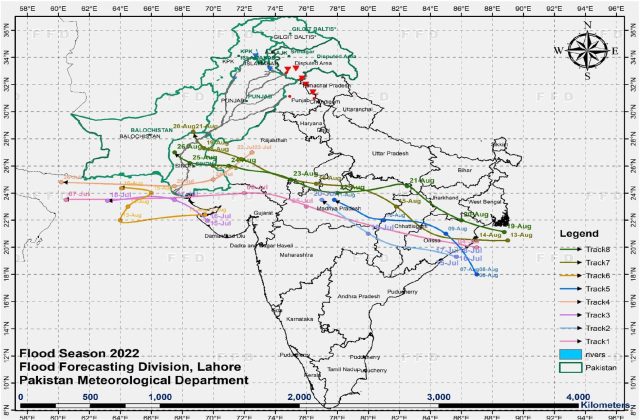 In addition to these large-scale spatial patterns, warm water in the eastern Indian Ocean increased the moisture content of the air entering the interior. Part of the blame for this is the ongoing La Niña — the previous record for flooding was in 2010, another La Niña year. This year, the La Niña effect was amplified by an oscillation called Indian Ocean Dipole.
To analyze weather events, researchers need an accurate definition of the area and time frame. In this case, they had to settle for two. They examined both the entire Indus River basin (which includes most of Pakistan) for 60-day average rainfall during the monsoon season, and five-day average rainfall for only the southern provinces of Sindh and Balochistan. "These two indicators are most consistent with the impact of the event, covering both the brief heavy rainfall in the southern provinces and the longer period over Pakistan," the report said.
https://arstechnica.com/?p=1882062